About us
Recognised as the Islands premier providers of specialist treatments and construction services
to domestic and commercial property owners and the construction industry.
Specialising in services such as timber treatments, damp and waterproofing, liquid applied roof coatings, renovations of sensitive or listed properties and environmental improvements we have a solution for every construction issue.
We also have the systems, management and staff to be able to deliver general construction and renovation projects of the highest quality up to a value of circa £1,500,000.00.
Utilising the auditing, quality and customer care skills developed with our specialist service provision we adopt this as a company ethos and undertake to hold these values whatever the value or nature of the works.
The company has developed a project delivery model which allows a less contractual approach focusing on delivery and quality, listening to our clients needs and bringing these to fruition.
Our clients include many of the best-known businesses in Jersey.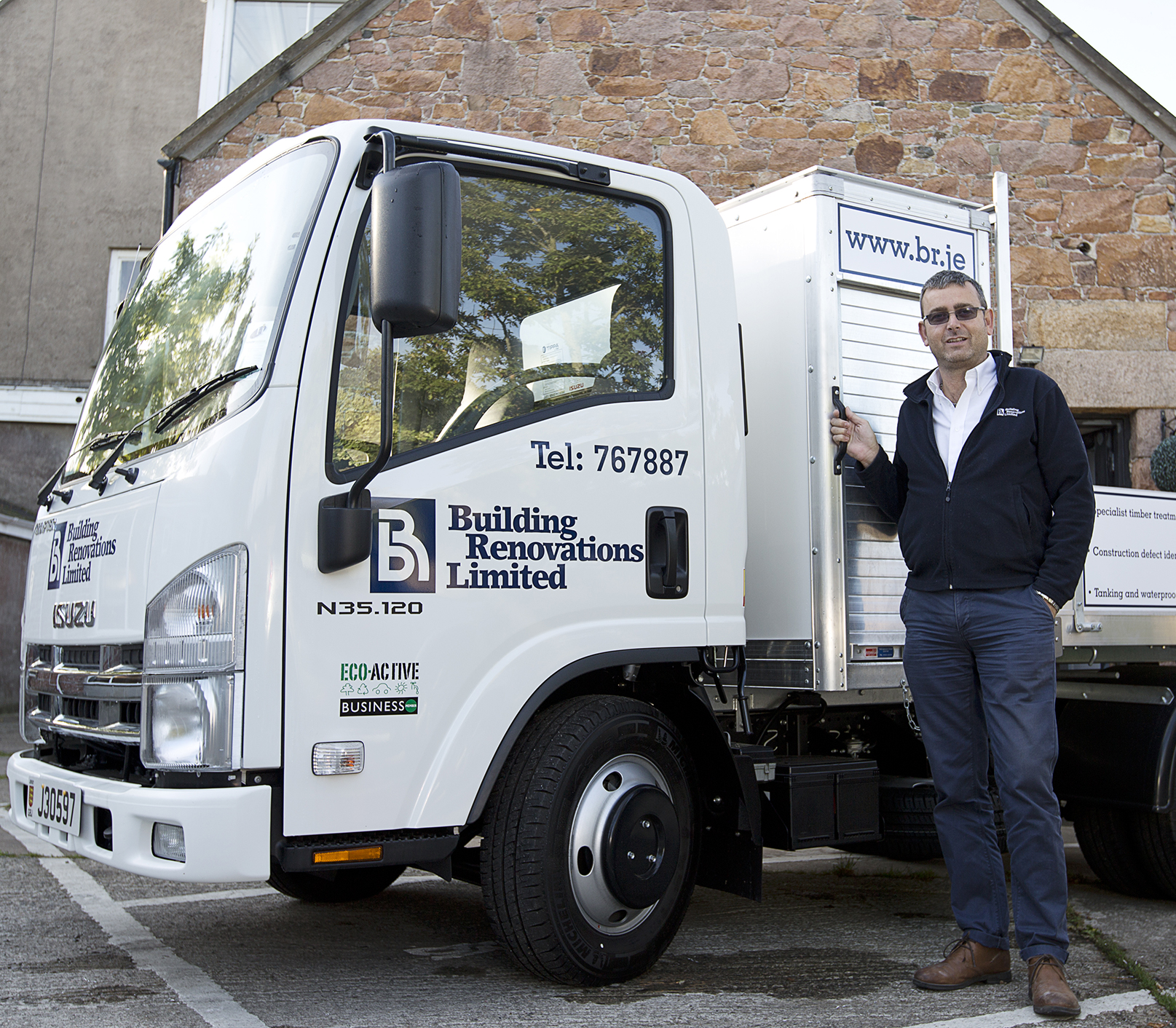 Our Expertise & Skills
Directly employing our own tradesmen and technical workforce allows us to best position training to ensure we are continuously updating our skills to keep pace with improvements within the marketplace.
Our employees receive both on and off Island training from specialist product manufacturers ensuring we are able to offer the applicable manufacturer supported warranties and guarantees for our works.
Specific Health & Safety training for MEWP's, Gas Safe and CoSHH have also been undertaken.
We expect our key subcontractors to fully embrace our commitment to delivering the very best services available.
All employees at Building Renovations have been trained to a company standard health and safety level including Passport to Safety, asbestos awareness, manual handling and working at height. All staff have a continuous training program that ensures each year they receive regular development of their professional skills. We consider training paramount to ensuring a high level of service for all our clients.
Our management team has a wealth of general and specific construction experience and qualifications ranging from BSc (Hons) qualified surveyors to IICRC accredited technicians who are able and willing to assist you wherever possible.
Our commitment to the delivery of a superior service to you extends from our Managing Director to our workforce and subcontractors.
Building Renovations Ltd's commitment as a business is to be the best specialist services company in Jersey.
Our commitment is to provide :
Provide the very latest specialist, proven, hi-tech building services

Use a selection of traditional solutions for the treatment of construction issues within historical buildings

Apply the correct solution to your property problem

Be relevant and concise information at all times

Use the most highly trained staff in the industry

Provide the most courteous and efficient service possible

Offer exceptional value for money

Give you peace of mind that our solutions are fit for purpose

Undertake our works in a responsible and safe manner

To honour our guarantees and warranties
Testimonials
I'd just like to say how pleasant an experience it has been dealing with everyone from BRL on this job.  From initial meetings with you; Stuart co-ordinating matters throughout; John and his labourer Ziggy day to day at the beginning of the job; to liaising with Allison on admin matters, to name but a few.

The highly professional and efficient service we have received from all stands out head and shoulders above that which we have received from other building services providers in Jersey in the past (to put it mildly).  Your staff are a credit to your firm and we look forward to engaging your services again in the future when our needs arise next.
I just wanted to thank you for fitting us in at short notice and for the quality of the work undertaken.

I would highly recommend your firm.
"Thank you all"  seems inadequate but Thank you for all the help and good works that you have all given me.   I don't know how I could have faced the upheaval without you.   It goes without saying that I am totally delighted with the finished job and the quality of your  work and cooperation and overall management is second to none.   What a very nice team of guys you have – I was most impressed.
Thank you also for your time on Tuesday at the property. We are pleased that you are working so hard to bring such a prominent building back into top condition. The town benefits from this type of attention to detail.
Once again we'd like to thank everyone at BR – particularly Stuart – for all of your support and effort. A flood is something we didn't choose to go through but the efforts given  and patience with us has really been appreciated.
I love it! I couldn't stop looking at the drive last night, it has transformed that area, we even had our neighbours complementing it last night and slowing down to look at it.   I am really very pleased with it.
Are you looking for  construction services?
Fill out this form and we will call you back.